How to Find Public EU Tenders
This article is a guide for Independent Software Vendors, but the principles can be used by any vertical.
Foreword
Way too many companies are unaware of the waste amount of public tenders issued in the EU on a daily basis. This not only leads to monopoly and national protectionism but also to lost opportunities for all parties.
There are many aspects of participating in public tenders, but a starting point is to know how to find and subscribe to the public notifications.
As a courtesy to Resiport users, we provide this quick guide to get you started.
---
Disclaimer: 
Resiport accepts no responsibility or liability whatsoever with regard to the information presentet in this article.

Copyright notice:
Reuse of TED data for commercial or non-commercial purposes is authorised provided 
the source is acknowledged ('© European Union, http://ted.europa.eu, 1998–2017').

---
TED – Tender Electronic Daily
TED (Tenders Electronic Daily) is the online version of the 'Supplement to the Official Journal' of the EU, dedicated to European public procurement.
TED publishes 460.000 procurement notices a year, including 175.000 calls for tenders which are worth approximately €420.000.000.000. Every day, from Tuesday to Saturday, a further 1,700 public procurement notices are published on TED.
You can browse, search, sort and subscribe via RSS or e-mail to procurement notices by country, region, business sector and more.
Information about every procurement document is published in the 24 official EU languages. All notices from the EU's institutions are published in full in these languages.
Be aware of the protectionism introduced by tenders issued only in minor native languages
The TED Advanced Search Engine
A good starting point to get instant information about tender notices is via the TED advanced search engine.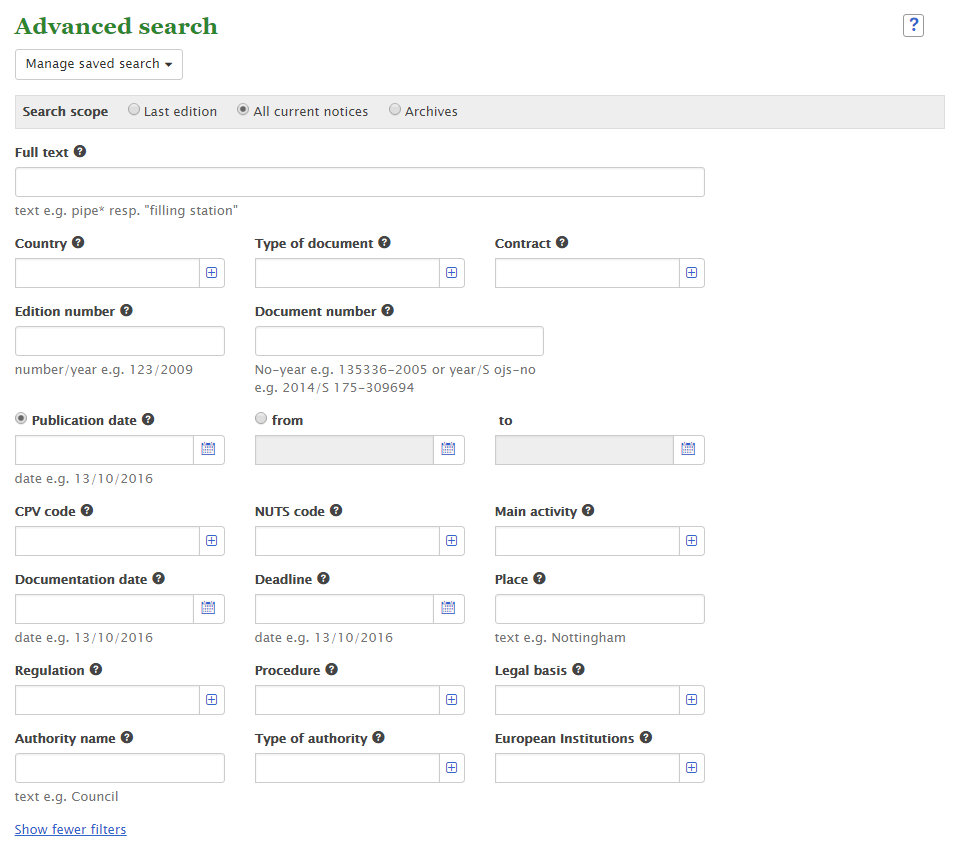 As you can see from the above UI there is a wealth of filters you can use in order to find exactly the notices you care about.
Getting started
Type of document
In this guide, our scope is to find new tenders. Use following document types as a filter:
Call for expressions of interest
Design contest
Periodic indicative notice with call for competition
Qualification system with call for competition
Request for proposals
Prior information notice with call for competition
or, as applicable.
Common Procurement Vocabulary Code
The CPV codes are specific to products and services. For ISVs following codes can be considered:
Computer and Related Services

48000000 – Software package and information systems
72000000 – IT services: consulting, software development, Internet, and support

Defence and security

72231000 – Development of software for military applications
73410000 – Military research and technology
73430000 – Test and evaluation

Research and Development

73000000 – Research and development services and related consultancy services

Technology and Equipment

48000000 – Software package and information systems
Select categories and subcategories as applicable to your field of expertise.
Publication date range
Use the from/to date range to reduce the number of hits to include only the latest notices, e.g. 01/10/2017 to present date
Other filters and extended search
As can be seen from the above screenshot of the TED advanced search engine there exist many other filters that can be applied and an extended search engine. Learn as you go, but always remember that you limit a search by each filter you add to a relational database search.
TED Search example
Used filters

Search results
Search is just a small part of a tender process
True, we just got you started, but hopefully, you got inspired to investigate further on your own.
You can refine the above search as needed, save your search and even subscribe to notifications via RSS or e-mail so that you will never miss an opportunity again.
Automatic IT Project tender notifications via Resiport
As a service to the Resiport community, we have established a Linkedin Group where we inform about all tenders requesting software development services. Via the group settings you are in full control about when you receive notifications (instant, daily, weekly) and how (Linkedin notification and/or by e-mail) – Join us.
We wish you good luck.