Sales generation in the Software Outsourcing ecosystem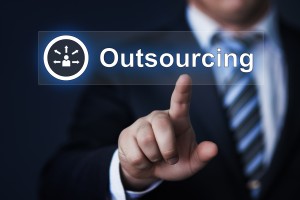 Everyone who has been around in the Software Outsourcing Industry know that it require a lot of efforts to land an outsourcing deal in a low frequency but high value B2B market.
Serious Prospects use months, even years, from the first approach to actual engagement. This require a very persistent pre-sales effort and a lot of luck being the right place at the right time with the right offer – leading to a rather expensive sales process
The Onshore -, Nearshore – & Offshore – Software Outsourcing Providers and Vendors only have few options to penetrate new markets.
How to penetrate a new market?
Marketing

Homepage
Newsletter
Social Media
Social Network
Conference
Association

Pre-Sales / Sales

Prospect visit
Tender bidding
Client referral
Cold Call
e-mail
Social Network
Conference
Client referral
Partnership
Representation Office

External Services

Referral
Sales consultancy
Lead generation service
Broker
Digital Broker
Freelance Portals

Prospect initiated

RFI/RFP
Client Advisor
On-demand information & matchmaking service
Total cost of a sale
The typical expenses a Software Outsourcing Provider have in order to create a sale (% of revenue):
Marketing: 8 – 15 %
Pre-sales / Sale: 15 – 25 %
External Services: 10 – 30 %
Prospect initiated: 0 – 5 %
Depending on strategy the average Total Cost of a Sale in the Software Outsourcing Industry is 25 – 40 %.
What if the Total Costs of a Sale decreased to less than 15 % ?
Think about it, it would be rather disruptive !
If the majority of Prospects engaged  by themselves or due to advisory services one could:
Drop all the cold Calls and e-mails
Build partnerships based on long-term quality Clients – maybe even say "thank you, but no" to some
Transform the "here I am – buy me"- marketing campaigns to Content Marketing that bring value to the table
Stand out from the crowd as a quality company, able to compete with the "big ones"
Make better blogs where IT Professionals and Marketing departments unite and create value
Forget about wild adventures creating a network of local representation offices worldwide
Dis-engage with various middle-men that do not bring value to the ecosystem
Drop the add campaigns with low ROI
Get a better bottom-line and/or give the best Clients a discount for a good and long-lasting partnerships
… the wishing-list is endless when one wants to do things for the right reasons
At Resiport we have been dreaming – but not only !
We have created an Information and Matchmaking marketplace where Prospects can use our self-service matching engine to find the best Software Outsourcing Provider worldwide. or make use of our Managed Advisory Service for authoritative guidance, best practices and results.
We have proved our concept during a long Beta period – NOT by:
spending our limited start-up budget on huge marketing campaigns
on a shiny homepage
on a huge development and support department
on expensive technologies
professional copywriting
but by
and not to forget:
By creating a service portfolio so simple and cost effective, yet so disruptive that everyone in the Software Outsourcing Ecosystem gain from making use of it.
Later this year
The purpose with our Beta program was to make a Proof Of Concept. To proof that we could:
Create a matchmaking engine based on the simple principle that the best intelligence is the one behind the user's keyboard
Unify all the parameters that make up a very diversified ecosystem
Do it without VC or a mega-team the US way
Convince 700+ Providers from 6 continents to use 6-7 hours of work completing their transparent company profiles
Attract and help 100+ Clients finding the best Onshore-, Nearshore-, or Offshore Software Outsourcing Vendor worldwide
When we step out of the Beta later this year and go commercial with a subscription based model for Clients as well as for service Providers it will be with a rather disruptive price tag. So disruptive that no one will be in doubt about the reasons for joining.
We have gratefully listed all the good advice, suggestions and positive critics from our users. Users that have been patient with us, lived with technical flaws and minimal support. Users that joined us because they could see the long-term aspects with our initiative – THANKS TO ALL.
Join us and make OUR dream come true
APPENDIX
Here you have one of the weekly e-mails we receive, and gracefully turn down. We do this in order to maintain high integrity as authority in the ecosystem and to focus on our leading stars.

Dear Ole,
We are connected on LinkedIn. Nowadays, we are looking for productive sales or referral people who will help us to expand to Scandinavian market by utilizing own network and knowledge in software development, IT services and start-up areas.
What we offer:
Attractive commission: 15% on projects and hours sold
EUR 250/month per dedicated team member
Professional pre-sales, on-call and on-site support by our delivery managers, who have with 15-20 years of experience –
Lead generation assistance (one market researcher per 2-3 sales)
CRM and marketing automation tools and databases (if required)
Access to existing leads in the region (5-20 leads per region)
Professional collateral: company and service presentations, contracts, etc
Initial live online sales training
Access to our Intranet with collateral and training materials (presentations, checklists, videos)
Country representative status
Email address at our domain
business cards
unlimited IP-telephony usage and assigned dial-in number, etc.
About us: nnn is an Central European nearshoring and software development house with expertise in areas of big data, cloud computing and software development outsourcing. Offices in nnn and nnn. We help our clients to fulfill existing challenges with improved performance, high quality and cost efficiency. Since nnnn, we have completed many projects for large and mid-market enterprises from banking, telecommunications, retails and other industries.
You can learn more about nnn at link.
//nnn